Slow Cooker Chicken Stew. Slow cooker Tuscan chicken stew is healthy, hearty, and so easy to prepare in the crockpot! Rosemary, fennel seeds and balsamic vinegar give This Tuscan chicken stew slow cooker recipe is one of the most popular recipes on Sweet Peas and Saffron because of the amazing flavor you can. Stir together cream and corn starch and stir into slow cooker, along with Parmesan cheese.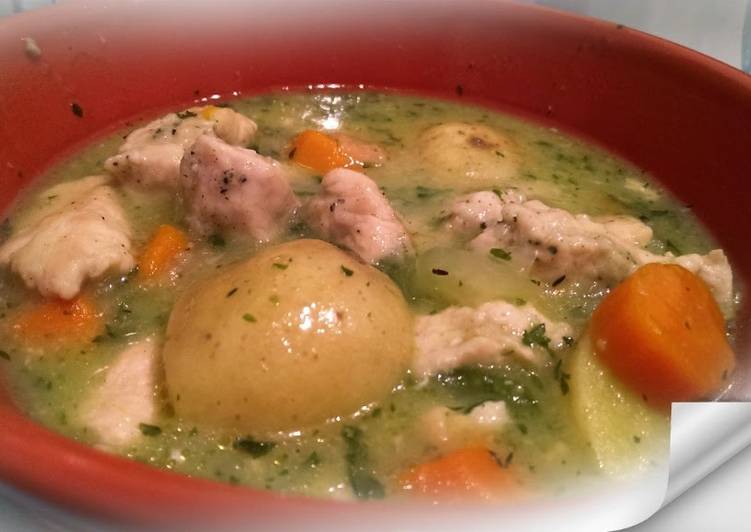 It's a simple combination of ingredients that is sure to please a hungry family. Just throw the ingredients together in the slow cooker and go about your day. He's not used to cooking on his own.or doing anything on his own for that matter!! You can have Slow Cooker Chicken Stew using 13 ingredients and 4 steps. Here is how you achieve it.
Ingredients of Slow Cooker Chicken Stew
Prepare 1 lb of boneless, skinless chicken breasts or thighs.
You need 1/4 tsp of poultry seasoning.
You need 1 of Salt and pepper.
Prepare 2 tbsp of flour.
Prepare 2 tbsp of oil.
You need 4 medium of Yukon gold potatoes.
You need 2 of stalks celery.
It's 4 medium of carrots.
You need 1 medium of yellow onion.
Prepare 1/4 cup of fresh parsley.
It's 1 can of cream of chicken soup.
You need 1 of soup can water.
Prepare 1/2 tsp of dried thyme.
I put this stew in little microwave-safe containers and put it in his freezer for him to take out the night before and put in his fridge to thaw to eat the next. Slow cooker whole chicken with gravy is the easiest method to get juicy and tender pieces of Rotisserie style chicken! For this recipe, chicken is rubbed with a savory spice blend to enhance the natural flavours of chicken, then slow cooked in a crock pot for tender mouth watering results. This creamy slow cooker chicken stew is cheap, filling and healthy too.
Slow Cooker Chicken Stew instructions
Cut the chicken into bite-sized pieces (roughly 3/4"). Sprinkle with poultry seasoning, flour, salt, and pepper to taste. Heat the oil in a pan over medium to medium-high heat. Add the chicken, working in batches if necessary to avoid crowding the pan, and cook until lightly browned on all sides. Place the chicken in a slow cooker..
Cut the potatoes and celery into roughly 3/4" inch pieces and add to the cooker. Peel the carrots and cut them into similarly sized pieces. Do the same with the onion. Roughly chop the parsley and add it into the slow cooker with all the vegetables and the chicken..
In a small bowl, combine the cream of chicken soup with water, salt, pepper, and thyme. Pour over chicken and vegetables in the cooker..
Cover and cook on high for 4-5 hours. Serve with a side of biscuits..
Heat the remaining oil in a frying pan and fry the onion for five minutes, then add the garlic and chilli. This Slow Cooker Chicken Stew is a perfect family dinner on a cool Fall evening. Best served with a side of buttered biscuits! A while back I was contacted by General Mills about creating an entree that would be great for serving with their frozen buttermilk biscuits, and I knew right away that it should be. You can serve this slow cooker Chicken Vegetable Stew on its own, or with some crusty whole grain bread.