Chicken Stew.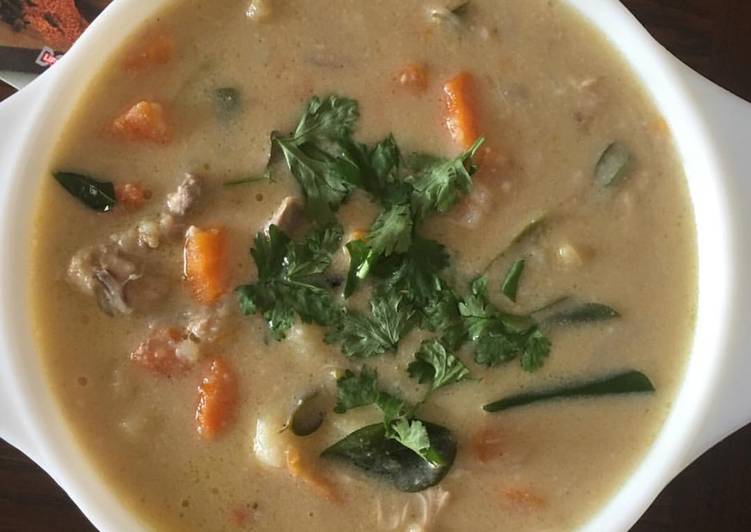 You can have Chicken Stew using 20 ingredients and 7 steps. Here is how you achieve it.
Ingredients of Chicken Stew
It's 1 of Potatoes.
You need 1/2 kg of Chicken.
It's 1 inch of ginger cut in julienne.
It's 2 of green chillies cut in julienne.
Prepare 2 of cardamom.
It's 2 of cloves.
Prepare 1 of cinnamon stick.
Prepare 5 of pepper cones.
Prepare 2 of stem curry leaves.
You need 1 tbs of coconut oil.
Prepare 1 of onion thinly slices.
You need 1 of carrot cut in equal cubes.
It's 1 cup of coconut thin milk.
It's 1/2 cup of coconut thick milk.
It's 1/4 cup of cashew paste.
Prepare 1 tbs of ghee.
You need 2 tbs of shallots.
You need 1/2 tbs of pepper powder.
Prepare 1 of tomato.
It's of Coriander leaves to garnish.
Chicken Stew step by step
Boil the below ingredients, max 2 whilst Chicken +Ginger + Green Chilly + cardamom +cloves + cinnamon + curry leave + salt (don't grind them).
Put coconut oil in a pan and Sauté onion (just translucent) Add Green Chilly + Curry leave + potato + carrot Add thin coconut milk and boil..
Add boiled Chicken and stir gently.
Add thick milk and Cashew paste, dont over boil just simmer..
Add Tomato, cut in length wise or round.
Take a pan add Ghee, dry pepper, shallot, curry leaves.
Add coriander leaves to the stew. Serve hot..