Barley Stew w/Smoked Chicken Sausage.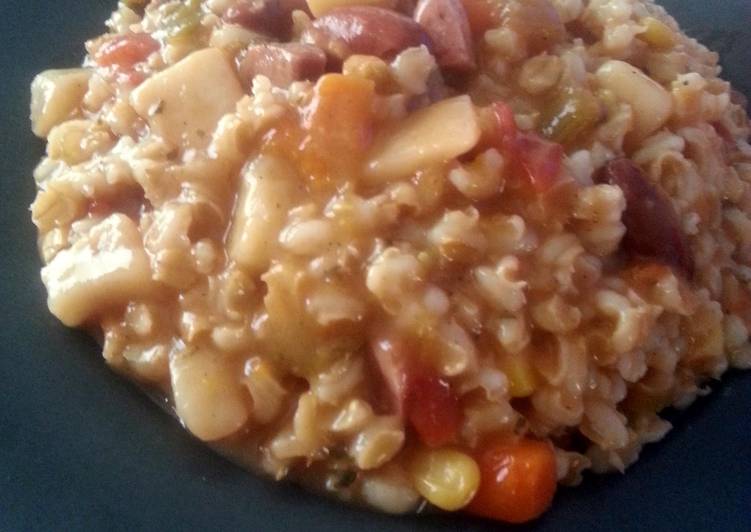 You can cook Barley Stew w/Smoked Chicken Sausage using 8 ingredients and 8 steps. Here is how you cook it.
Ingredients of Barley Stew w/Smoked Chicken Sausage
It's 1 cup of Barley.
You need 1 large of chicken, roasted garlic, & gruyere cheese smoked sausage (I used Aidells).
You need 2 of 18.5 oz cans of vegetable soup (I used Progresso Vegetable Classics – Garden Vegetable).
Prepare 1 pinch of sea salt to taste.
It's 1 pinch of ground black pepper to taste.
It's 1 tsp of cayenne pepper to taste.
You need 1/2 tsp of ground mustard.
Prepare 1 of bay leaf.
Barley Stew w/Smoked Chicken Sausage step by step
Rinse barley under cold water..
Place rinsed barley in a 3 quart pot with 4 cups of cold water, a splash of EVOO, the bay leaf, and a pinch of sea salt..
Cover & bring to a rolling boil. Reduce to medium heat. Watch to make sure it doesn't boil over. Cook for 30 mins, no peeking..
While the barley is cooking, cut the sausage into 1/4 inch pieces..
Remove the barley from the heat and stir, making sure to gently scrape the bottom. Most of the water should be gone. If not, drain off most of what's left, but don't trip if there is still a small amount in the bottom of the pan..
Add 2 cans of the vegetable soup, cut sausage, sea salt, ground black pepper, ground mustard, & cayenne pepper. Stir to combine..
Place back on high heat and stir until it starts to bubble. Immediately reduce heat to medium, cover again, and cook for another 15 mins..
Take off of heat, stir, put in a bowl and serve with a nice piece of crusty bread with butter or pesto… Enjoy!.