Spicy Slow Cooker Chicken Stew.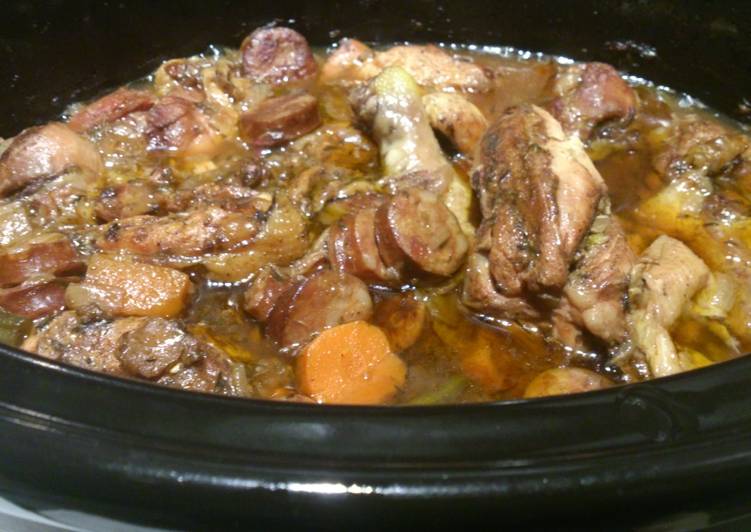 You can cook Spicy Slow Cooker Chicken Stew using 15 ingredients and 10 steps. Here is how you cook it.
Ingredients of Spicy Slow Cooker Chicken Stew
You need 1 kg of Chicken pieces.
It's 500 grams of mixed vegetables.
You need 300 grams of Chorizo sausage, sliced.
It's 1 large of onion, chopped.
You need 50 grams of Spicy chicken thick soup stew (Royco).
You need 1/2 tsp of salt.
You need 1/2 tsp of ground black pepper.
Prepare 2 tbsp of Chicken spice.
Prepare 1 tbsp of origanum.
You need 1 tsp of thyme.
Prepare 2 tbsp of olive oil.
It's 6 clove of garlic, crushed.
You need 1 stick of butter.
Prepare 500 ml of water.
It's 1 of bay leaf.
Spicy Slow Cooker Chicken Stew instructions
I used chicken breasts and drumsticks (as there aren't that many bones in them), but use any pieces you'd like. First I scored them. Then in a bowl, I combined the salt, ground black pepper, chicken spice, origanum, and thyme, and tossed them with the chicken. Then I drizzled the olive oil over the chicken.
Then in a large pan, melt one stick butter. Fry the onion and garlic on medium to high heat for about 3 mins.
Add the chorizos, and fry for a further 5 mins.
Add the chicken, and brown (5 – 10mins).
While the chicken is frying, layer your mixed vegetables on the bottom of a greased slow cooker. Choose your favourite vegetables (I used a mixed bag of broccoli, cauliflower, pumpkin, potatoes, carrots and baby marrows).
Once chicken is browned, transfer to the slow cooker, layering on top of the mix vegetables.
In a measuring jug, make a paste with the spicy chicken thick soup stew powder, with a little cold water. Keep adding water and mixing until you have 500ml (I used the Royco variety, but use whatever is available in your country, or closest to it).
Pour over chicken over chicken and vegetables. Add the bay leaf.
Turn slow cooker onto high (5 – 6hrs) or on low (7 – 8hrs). Test sauce 3/4 of the way and adjust seasoning accordingly.
(optional) serve with mash or on a bed of rice.