Chicken Stew.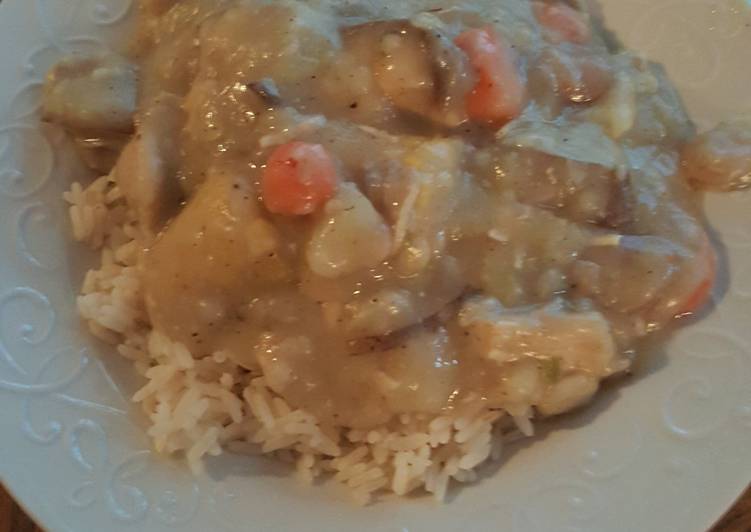 You can cook Chicken Stew using 11 ingredients and 7 steps. Here is how you achieve that.
Ingredients of Chicken Stew
Prepare 2 of chicken breasts (boneless skinless).
You need 2 of medium carrots.
It's 5 of potatoes, cubed.
Prepare 2 of cobs of corn.
Prepare 1/2 of onion, chopped.
You need 1 cup of butter beans.
You need tbsp of oil or butter.
Prepare of water.
Prepare 1 cup of flour.
Prepare 1 tbsp of cornstarch.
It's 1 cup of rice.
Chicken Stew step by step
Cook chicken for about 5-7 minutes in either 2 tbsp oil or butter. I have about 3 cups of chicken..
Add desired seasoning. I used about a table spoon of what's pictured..
Add enough water to cover chicken. Cover and simmer about 15 minutes..
In seperating pot boil the beans in water until tender. I do this because I have bad luck with my beans not being done if I put them in with everything else. But if you aren't like me, feel free to add them in when the rest of the veggies are added..
Add veggies (including beans) and return to medium heat. For 30-45 minutes..
Take 1 cup flour and 1 tbsp cornstarch and mix to a paste. Add into pot. Add additional water to pot if consistency is too thick. Once desired thickness is reached, leave on low heat until ready to serve..
Serve over rice. (Cooked according to package. ).