Portuguese Stew.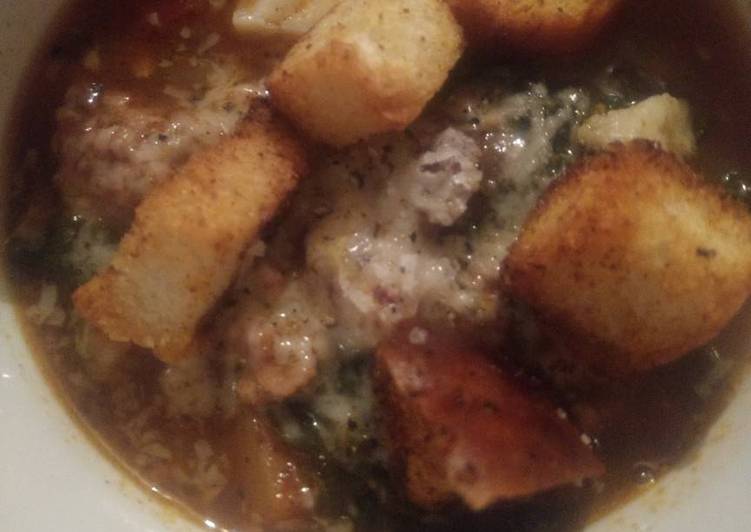 You can cook Portuguese Stew using 14 ingredients and 5 steps. Here is how you achieve that.
Ingredients of Portuguese Stew
You need 1 lb of Italian sausage.
Prepare 1 of onion, chopped.
It's 1 bunch of kale, chopped.
Prepare 5 cloves of garlic, minced.
It's 2 tbsp of olive oil.
You need 2 of red potatoes, diced.
Prepare 1 can of garbanzo beans, undrained.
Prepare 1 can of black beans, partially drained.
You need 1 can of diced tomatoes, undrained.
You need 4 cups of chicken or beef broth.
Prepare 1 of lemon, juiced.
Prepare 1 PKG of chili seasoning.
It's of Parmesan cheese, garnish.
It's of Croutons, garnish.
Portuguese Stew step by step
In a large pot, add olive oil and sausage. Cook on medium high heat.
When sausage is almost cooked, add onion, garlic and kale. Cook about 5 min until kale starts to wilt down. Add potatoes, canned beans and tomatoes, broth, chili seasoning and lemon juice. Turn heat high.
Once boiling, turn heat to low and cover. Simmer about an hour until potatoes are soft..
Garnish with Parmesan and croutons!.
Note: if you have a cheese rind laying around, toss it in your soup. I had an asiago rind..